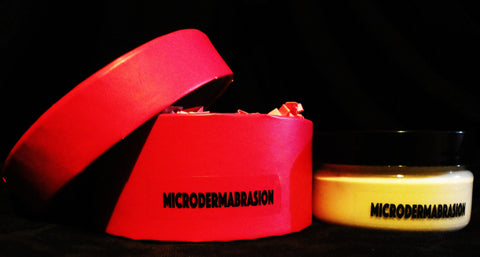 H.E Microdermabrasion
H.E Microdermabrasion is an unscented formula which deeply exfoliates your skin after cleansing.  The combination of our exclusively chosen natural ingredients nourish the skin as well as deeply cleanse the pores by removing the dead skin surface. It includes Avocado, Jojoba, Hemp and Grape-seed oils, Shea Butter and Vitamin E to renew your skin surface and brighten your skin to enhance your natural beauty. When used with our H.E cleanser, toner and moisturiser, it helps to reduce hyper-pigmentation and signs of ageing as well as heal the damaged skin. 
Application: Apply H.E Microdermabrasion over the facial area after cleansing, massage and rinse. For best results, use H.E Microdermabrasion followed by H.E Cleanser, Toner, Day and Night Cream.
Ingredients: Deionized Water, Aluminum Silica (Bauxite), Glyceryl Steatate, Butyrospermum Parkii (Shea Butter), Persea Gratissima (Avocado) Oil, Vitis Vinifera (Grape Seed) Oil, Simmondsia Chinensis (Jojoba) Oil, Cannabis Sativa (Hemp) Seed Oil, Caprylic/Capric Triglyceride, Glycerin, Stearic Acid, Tocopherol (Vitamin E), Cetyl Alcohol (Fatty Acid), Phenoxyethanol and Caprylyl Glycol (Optiphen®).