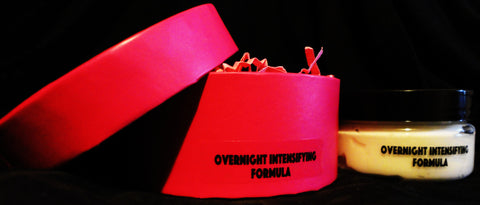 Overnight Intensifying Formula
Our H.E Overnight Intensifying Formula is exclusively formulated with a blend of jojoba oil, squalene and higher emollients to hydrate the skin at night to make it smooth and soft by the morning. It is rich in texture and reduces dryness without a greasy feel. The combination of aloe vera gel, jojoba, and avocado extracts nourish the skin and prepare it to be flawless by the morning. The addition of grape-seed oil, with African shea butter, vegetable glycerine and vitamin E enhance the natural beauty of the skin. This deep moisturising formula gently reduces fine lines and wrinkles to make the skin younger and healthier than ever before.
Application: 
Apply H.E Overnight Intensifying Formula at night time on clean skin. For best results, use H.E Cleanser, Toner, Microdermabrasion and Day Cream regularly along with this product.
Ingredient Listing: 

Deionized Water, Aloe Barbadensis Leaf Juice, Glyceryl Stearate, Persea Gratissima (Avocado) Oil, Simmondsia Chinensis (Jojoba) Seed Oil, Vitis Vinifera (Grape) Seed Oil, Glycerin, Butyrospermum Parkii (Shea Butter), Caprylic/Capric Triglyceride, Squalane/Olea Europaea (Olive) Fruit Oil, Stearic Acid, Cyclopentasiloxane, Tocopherol (Vitamin E), Cetyl Alcohol, Phenoxyethanol and Caprylyl Glycol (Optiphen®).